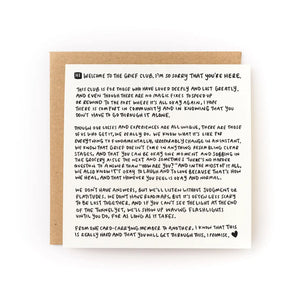 Welcome to the Grief Club card
Regular price
$6.00
$0.00
Unit price
per
4.75" x 4.75" folded card
Blank inside
Letterpress printed on luxe soft white cardstock
Paired with a recycled Kraft envelope
Printed by hand on an antique letterpress in Brooklyn, New York.
Postage: square envelopes require a $0.70 stamp
Card text reads:
HI Welcome to the grief club. I'm so sorry that you're here.
This club is for those who have loved deeply and lost greatly. And even though there are no magic fixes to speed up or rewind to the part where it's all okay again, I hope there is comfort in community and in knowing that you don't have to go through it alone.
Though our losses and experiences are all unique, there are those of us who get it, we really do. We know what it's like for everything to fundamentally, irreparably change in an instant. We know that grief doesn't come in anything resembling clear stages, and that you can be okay one moment and sobbing in the grocery aisle the next and sometimes there's no harder question to answer than "How are you?" And in the midst of it all, we also know it's okay to laugh and to love because that's how we heal, and that however you feel is okay and normal.
We don't have answers, but we'll listen without judgment or platitudes. We don't have roadmaps, but it's often less scary to be lost together. And if you can't see the light at the end of the tunnel yet, we'll show up waving flashlights until you do, for as long as it takes.
From one card-carrying member to another, I know that this is really hard and that you will get through this, I promise.
---